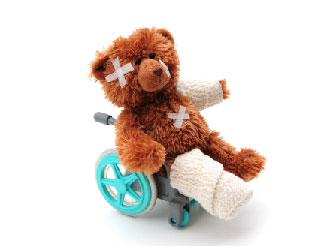 The holiday season is a time for family gatherings and friendly merriment but it can also expose children to the dangers and the potential of injuries from unsafe or defective toys. Millions of toys are sold each year and some of those toys will lead to injuries. Most Massachusetts parents assume that the toys they purchased have been thoroughly tested and are safe for children. Unfortunately, not all toys meet these standards and a product liability lawsuit may be necessary when they don't.
A defective product can be shown by evidence of defective design, defective manufacture, or failure to warn the consumer of certain dangers. In Massachusetts, a product liability lawsuit can be based on two legal principles. First, that a product breached express or implied warranties to the consumer. This warranty cause of action may be based on a breach of a manufacturer's express promises to the consumer or a breach of the implied warranty of merchantability. Second, the designer or manufacturer of a toy may have been negligent in its production of the item. Under a negligence theory, the injured plaintiff alleges that the manufacturers' designs, production, or warnings fell below the standard of a reasonably prudent manufacturer and those shortcomings were the cause of injury.
However, a designer or manufacturer who exercises reasonable care in design, manufacture, and warnings may avoid liability under the negligence theory of relief. Massachusetts courts have decided that it would be unreasonable to expect that no injuries would ever happen but want to ensure that reasonable safety protocols are in place and are being followed.
In many cases, rather than ending in a lawsuit, a defect will lead to a product recall. Product recalls happen frequently and the best resource for information regarding current product recalls is the Consumer Product Safety Commission's website.
It is devastating on a family any time that a child suffers serious injury. Consulting with an experienced attorney can help to make a very upsetting and confusing process easier. At Wynn and Wynn we have experienced attorneys that are available to help Massachusetts families navigate the legal process and make sure that you are fully compensated for all damages. To request a free consultation call 1.800.852.5211 or click here to request a consultation.