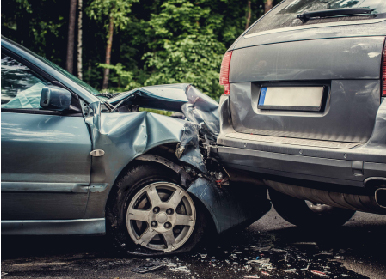 Auto accidents, even relatively minor ones, are traumatic. Loss of transportation, personal injury, lost time from work, filling out accident reports, dealing with insurance adjusters …
What should you do if you are in an automobile accident? Be sure to document as much as you possibly can. Get the name, address and insurance carrier of all vehicles involved in the accident. Get photographs of any damage. If possible, get the names and addresses of any eye witnesses. Be sure to get copies of police reports and never admit fault, even if you think you might be at fault.
If you think you have been injured, you should be transported by ambulance from the scene to ensure that your health and well-being are protected. After being seen in the emergency room, make sure to get copies of any diagnostic tests that are done (x-rays, blood work, CT scans…). Be sure to follow-up with your primary care physician and with specialists to the extent needed. Document all of your medical treatment and keep copies of all medical bills. Keep track of all lost wages and other related expenses.
Remember that the insurance company is not your friend. They are in business to collect premiums and not pay claims. While you have certain obligations to cooperate with your insurance carrier, you also have the right to protect your interests.
To decide whether it makes sense to consult an attorney regarding an automobile accident, consider the following:
A. Did you suffer bodily injury?
B. Were you a passenger in someone else's automobile?
If you answered yes to questions A and B, you should definitely consult an attorney. You may be able to recover your medical expenses, lost wages and for pain and suffering. It is best to consult an attorney sooner rather than later so that you can be sure that your rights are fully protected.
C. Were you the operator of one of the vehicles involved in the accident?
If you answered yes to questions A and C, you probably should consult an attorney. Again, sooner rather than later. The apportionment of fault in a given accident may limit your ability to recover damages such as medical bills, lost wages and pain and suffering. The sooner you consult an attorney, the better chance there is that your rights, under the circumstances, will be fully protected.
D. Were passengers in your vehicle or other operators or passengers injured as a result of the accident?
If you answered yes to D, again it is wise to consult an attorney. You want to be sure there is sufficient insurance coverage and be in the best possible position vis a vis other operators.
E. I did not suffer bodily injury, but my vehicle suffered damage or is a total loss.
If you answered yes to E, this is more of a gray area as to whether it is cost effective to hire an attorney. Keep in mind that many insurance companies will not be fair with you. You may need at least some guidance from an attorney to ensure that their insurance company meets its obligation in settling the property damage claim.
If you have been in an automobile accident, the obvious priority is to make sure that you are returned to full health as soon as possible. The second priority is to document the details of the accident. The next thing to do is to evaluate the scenarios above and, where indicated, consult an attorney for advice. Again, the insurance companies have in-house appraisers, adjusters, and attorneys. They are looking out for their best interests, not yours.
We are here to help protect your rights, if you have been involved in an automobile accident, please call the attorneys at Wynn & Wynn, P.C. at 1.800.852.5211 or request a free consultation.