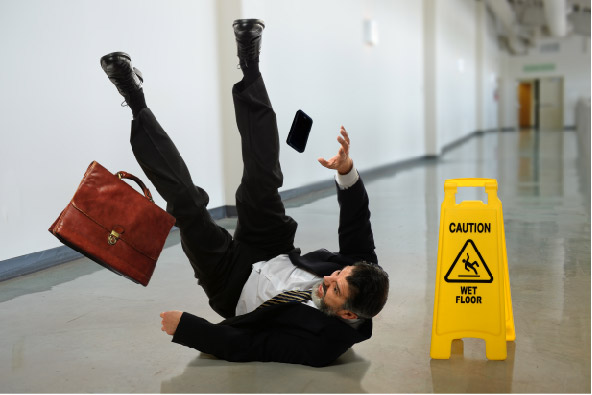 Many individuals are injured as a result of slip and falls. First, a determination needs to be made whether the slip and fall is just an accident or, alternatively, an owner or one that is in control of the property, permitted an unsafe condition to exist which caused the person to slip and fall.
The mere fact that a slip and fall has occurred is not determinative that someone is at fault for the resulting injuries. Sometimes people just fall! However, if the property owner is at fault, he or she may be responsible for compensating the victim for the damages that have resulted. This is the case whether the fall occurred on stairs at a home, in a grocery store, or on snow or ice.
When a prospective client contacts us at Wynn & Wynn, the information that is given to us by the client is critical. We must use that information to determine whether or not the owner of property used reasonable measures to prevent injuries that could result from foreseeable dangerous conditions or if they knew or should have known that there was a foreseeable dangerous condition that could cause harm to someone, whether a customer in a store or a visitor to your home.
Case law in Massachusetts concerning slip and falls has evolved over the years. Historically, it was very difficult to prove the owner of property was responsible for a slip and fall without some evidence that they were on notice that an unsafe condition existed. Therefore, if you could not prove some form of notice, it was difficult to establish the property owner should have protected an individual from the harm because the owner was not aware of the dangerous condition.
This theory of law as to commercial properties has changed and become more liberal since 2007 when the Massachusetts Supreme Judicial Court decided the case of Sheehan v. Roche Bros. Supermarkets, Inc. The Supreme Judicial Court embraced a new theory in Massachusetts entitled "mode of operation".  The SJC held in Sheehan that a store owner may be held liable as a result of some other person's negligence in allowing an item to fall on the floor and remain there. This case no longer made notice to the property owner necessary to establish liability.
After Sheehan, liability can now be imposed on a store owner under circumstances where store owners invite customers "to use self-service to manipulate merchandise displays" because "there is a foreseeable risk that customers handling of merchandise or displays will cause disruption of the store's arranged display to the end that hazardous conditions will result." Additionally, in a recent decision entitled Bauers v. P. Wiley's, Inc., Appeals Court Judge Greene noted that the SJC in Sheehan "explicitly cautioned that its adoption of the mode of operation was not limited to 'spilled foreign substances or foreign matter.'"
Therefore, if you or someone you love has slipped and fallen in a store or at a residence, and suffered injury, it is important to contact an attorney who will help to determine whether or not, factually, the property owner can be held responsible for the damages suffered. Our attorneys at Wynn & Wynn do this by ascertaining all of the facts: where the fall occurred, how the fall occurred, what the person was wearing, what they were carrying, who they were with, etc. Once the facts are determined, the attorney will review the existing laws to determine if there is a claim worth pursuing or if it was just an accident.
If you have been injured as a result of a slip and fall, the attorneys at Wynn & Wynn, P.C. can help review your case and determine if you have a potential claim. Call our office today at 1-800-852-5211, or request your free consultation.