Patricia Alexandre, Esq. | Law Clerk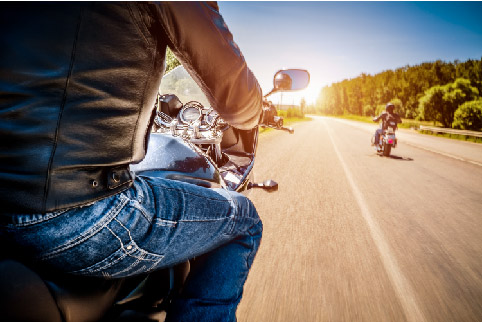 With the warmer weather here and the days longer, you will notice many people taking their motorcycles out for a ride. Although this may be a source of fun and entertainment, accidents can happen at any time. In the event of an accident, most drivers believe if they have motorcycle insurance, they are automatically covered for medical bills and other related expenses; however, this is a common misconception. Therefore, it is imperative to be educated and have the proper insurance coverage for your motorcycle as well as yourself.
In Massachusetts, every person who owns an automobile is required to have automobile insurance. There are two basic categories of insurance, Compulsory Insurance and Optional Insurance. Massachusetts requires you by law to purchase Compulsory Insurance which covers Bodily Injury to Others, Personal Injury Protection, Bodily Injury Caused by an Uninsured Auto, and Damage to Someone Else's Property. Massachusetts requires that every automobile insurance policy provide Personal Injury Protection (PIP) benefits. PIP benefits are designed to provide reimbursement for medical bills, and other related expenses regardless of who is at fault within the first two years following the car accident in which you were injured. Through your automobile insurance policy, PIP benefits are available to the insured driver, any passenger in the insured's vehicle, or any pedestrian struck by the insured's vehicle. The amount of PIP benefits available depends on whether or not the injured party has health insurance. If the injured party has health insurance coverage, PIP benefits will cover the first $2,000 of medical and related expenses. If the injured party does not have health insurance coverage or has insurance coverage by a publically funded plan, like Mass Health, Medicaid and Medicare, PIP benefits will cover up to $8,000 in medical and related expenses.
Massachusetts requires Compulsory Liability Insurance for all registered motorcycles, with minimum requirements of $20,000 per person, $40,000 per accident for bodily injury to others and $5,000 for property damage for property damage coverage. However, PIP benefits are NOT AVAILABLE to motorcycles, unlike automobiles. No insurance company is required to provide PIP benefits for motorcycle owners, operators or passengers who suffer bodily injury. Only, pedestrians struck by motorcycles are entitled to PIP benefits.
There are Optional Insurance coverages that may be purchased by motorcycle operators. Some include: Optional Bodily Injury to Others, Medical Payments and Bodily Injury Caused by an Underinsured Auto. Since PIP is not available to motorcycle operators, the most important Optional Insurance Coverage is Medical Payments. Under this option, the insurance company will pay reasonable expenses for necessary medical and funeral services incurred as a result of an accident, expenses resulting from bodily injuries to a passenger at the time of the accident and expenses resulting from bodily injuries to the insured or any household member if struck by an automobile or if occupying someone else's auto at the time of the accident. Medical Payments can be purchased in varying amounts ranging from $5,000 to $25,000.
Ultimately, it is vital that motorcycle operators have sufficient insurance to cover medical treatment and related expenses sustained as a result of a motorcycle accident. Moreover, it is important to be educated and understand the importance of Optional Insurance Coverage in the event of an accident.
If you are in an accident and need help understanding your insurance coverage, please call the attorneys at Wynn & Wynn, P.C. at 1.800.852.5211 or request a free consultation.