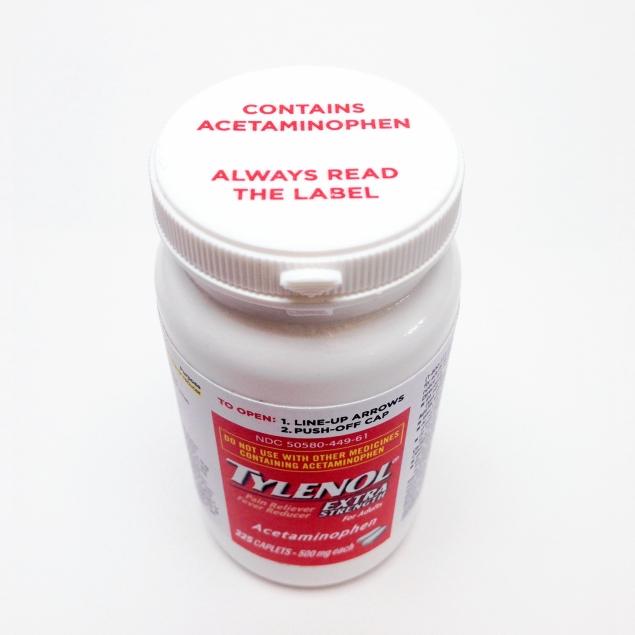 Tylenol, Nyquil, Benadryl, Sudafed, Zicam, Vicks, Robitussin. What do these over-the-counter drugs all have in common? They all contain Acetaminophen, a popular pain reliever and fever reducer. Often viewed as a relatively safe medication, acetaminophen is a common household product. In recent years, however, it has become ever clearer that this drug, like most, can have extremely dangerous side effects when directions for use are not adhered to.
The dangers of acetaminophen lie within the margin of the amount that can help and the amount that can cause very serious harm. This margin is quite small, especially when compared to other pain relievers. Taken over a few days, just taking 2 extra strength tablets a day more than recommended a day has been reported to cause liver damage. From 2001-2010 over 1,500 people died due to accidentally overdosing on acetaminophen, and according to the FDA, acetaminophen overdoses send 50,000 to 80,000 people to the emergency room, and are responsible for some 500 deaths a year.
What has been done to alert people to these dangers? Until recently, acetaminophen has been marketed as a safe pain reliever, but now the parent company of Tylenol, Johnson & Johnson has decided to release warnings on the cap of Tylenol products instructing users to read the labels. This is in response to many personal injury lawsuits that the company is facing from these acetaminophen related injuries.
If you or a loved one has suffered from a serious injury related to acetaminophen, it is important to contact an experienced legal professional to help review your case and receive the compensation you deserve.
At Wynn and Wynn, we have a reputation for assisting people throughout the process of dealing with a personal injury case. Our clients know that we can help them, whatever their legal needs. With offices in Raynham and Hyannis, our team is some of the top Massachusetts attorneys. Contact us today at 1-800-852-5211 or request your free consultation.