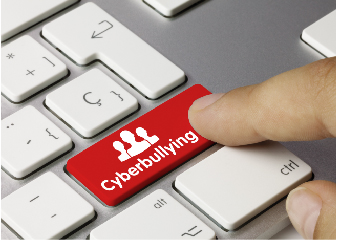 Kate A. Desmond | Associate
Throughout the country, and in Massachusetts, students in schools have always felt the effects of bullying. Unfortunately, today, the internet and social media have spawned a new kind of bullying, Cyberbullying. Cyberbullying has become the new phenomenon that affects our children. Today, the bullying does not cease when the school day ends, the ease of electronic communication allows for cyberbullies to continue insulting and intimidating victims constantly, hiding behind a computer or cell phone. Parents, school teachers and students have reported that increasingly more and more children are involved in or are victims of cyberbullying.
Massachusetts is one of the states at the forefront of cyberbullying and is dedicated to putting laws in place to stop cyberbullying on social media sites such as Facebook and Twitter.
In 2011, Governor Deval Patrick signed a landmark anti-bullying bill, the Massachusetts Bullying Prevention Law, into Massachusetts law. This law requires teaches and other school staff to report bullying, mandates training for all teachers and staff and implements plans on prevention and intervention. It also creates a broad definition of bullying that incorporates cyberbullying.
There are currently no federal laws pertaining to cyberbullying, but some cases overlap with existing discriminatory harassment policies which is covered under federal civil rights laws enforced by the U.S. Department of Education and the U.S. Department of Justice.
A school that fails to respond appropriately to harassment of students based on a protected class may be violating one or more civil rights laws enforced by the Department of Education and the Department of Justice.
In 2011, Massachusetts was one of the first states to prosecute students in connection to the suicide of Phoebe Prince, a student at South Hadley High school. Phoebe was verbally abused publicly and in Facebook posts, she was threatened with physical abuse and received hostile text messages. Multiple teens were charged with criminal harassment, civil rights violations and were sentenced to lengthy probation and community service.
Although cyberbullying has been prevalent and continues to grow in Massachusetts, there are still few civil cases filed by families of children that have been victims of cyberbullying. These cyber acts may not only result in criminal charges, they may generate a lawsuit seeking financial compensation. Willful and malicious electronic communication at a specific person, which seriously alarms that person and would cause a reasonable person to suffer emotional distress, may result in cases claiming intentional or negligent infliction of emotional distress.
If you are a victim of cyberbullying you should continuously track and keep records of your interactions. Keep text messages that are received and take screen shots of the dialogue on the particular website used. Parents of children who use a computer should monitor their access as well as their cell phone usage. Mass.gov and Cyberbullying.com have information and resources to help parents protect their children and recognize if they are involved in cyberbullying. Parents may also look into community events and see how they can get their children involved. Recently, The Silver City Teen Center, Southeastern Massachusetts Voices Against Violence and the Taunton Violence Prevention Task Force held a forum about bullying and cyberbullying in Taunton, Massachusetts.
At Wynn and Wynn, we have experienced attorney's that are available to help Massachusetts families navigate the legal process and make sure that you are fully compensated for all damages. To request a free consultation call 1.800.852.5211 or click here to request a consultation.