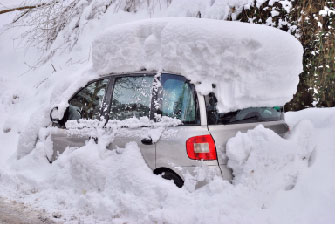 Winter has officially arrived here in Massachusetts and with all New England winters come perilous road conditions. Most drivers in Massachusetts have had the unfortunate experience of driving behind a vehicle that was not properly cleaned off after a storm. Oftentimes, a driver, who is either lazy or in a hurry, clears just enough snow off their windshield to see through a small hole. However, as the car warms up, the remaining snow and ice on the vehicle melts and slides off the roof into traffic. Whether the snow falls off a vehicle going 20 miles per hour on a side street or 65 miles per hour on the highway, it adds significant hazard to already dangerous driving conditions.
Failing to properly clean off a vehicle can lead to accidents causing injury, property damage and even death. These consequences can have a profound effect on both the person who suffers as a result of the accident and their loved ones. For this very reason, many states have proposed and enacted laws specifically prohibiting this type of reckless and negligent conduct. In fact, the Massachusetts Legislature has recently proposed legislation prohibiting the operation of a vehicle covered with snow and ice. Additionally, a driver who does not properly clean off a vehicle can be fined under Massachusetts' impeded operation statute, which provides that, "No person, when operating a motor vehicle, shall permit to be on or in the vehicle or on or about his person anything which may interfere with or impede the proper operation of the vehicle or any equipment by which the vehicle is operated or controlled." In cases where an injury or death occurs, the driver could also face civil, and even criminal, liability for his or her reckless or negligent behavior.
In the unfortunate event that you or a loved one is injured in a car accident in Massachusetts, the personal injury attorneys at Wynn & Wynn are ready and able to provide you with prompt and thorough assistance. Call our office today 1-800-852-5211, or request your free consultation.