Dog Bites – As warmer weather approaches in the Southeastern Massachusetts area; many people will be spending more time outside. Many of us can identify with the surprise of being on a walk or a run and a neighbor's dog comes charging, barking and lunging at us.
It is estimated that in the United States 1000 people every day suffer injuries from dog bites. If you or your child has been injured from a dog bite, how can you proceed to receive the compensation you deserve?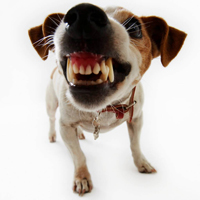 The state of Massachusetts has a law of strict liability for dog owners. The owners of the dog are responsible for any injury from a dog (unless it is the result of taunting etc.). If you have been bitten, the help of a trusted legal advisor to prove liability may be beneficial, as in some cases it may be difficult to prove fault. If a child under the age of seven was bitten, no matter what the circumstances surrounding the attack, the dog owner is responsible for the injury.
It is important that photographs are taken of the bite marks after the fact, as well as specifics of what treatment you have received for the injury to be presented as proof for your case.
If you have been hurt from a dog attack, the attorneys at Wynn and Wynn give the personal attention you deserve and are ready to help – whatever your legal needs. Call today at 1 (800) 852-5211 for a consultation or click here.