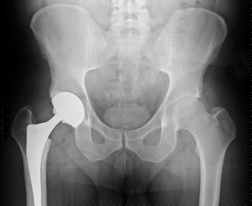 Medical recalls are an unfortunate fact. We have all heard the commercials on TV, for medications with countless side effect warnings, or ads warning of serious dangers that have presented themselves from some medications or surgical implants. The FDA has many standards in place to protect people from serious harm from products, but unfortunately some products are not discovered to be harmful until it is too late.
In 2010, DePuy Orthopaedics issued a recall for their ASR hip replacement, after receiving a report from the UK that the replacement joint required surgeries to modify the joint once it was already in place. When surgeons conducted these surgeries they discovered that fluid was collecting in the area of the joint. Later research would show that this fluid was the result of metal poisoning in the body. The joint was an innovative metal on metal design- intended for younger patients who needed a hip replacement. Tiny metal shavings were being released into the body and poisoning the patient. Doctors also found dead tissue and bone fractures at the connection of the joint. Many patients reported pain worse then the pain that prompted them to get a replacement in the first place.
Following this recall, the FDA came under fire for not conducting their own studies on the product before it was released for distribution in the US.  Johnson and Johnson, the parent company to DePuy Orthopaedics, also was put under pressure for not issuing proper warnings about the product.
Since the recall, complaints and lawsuits have been skyrocketing. With more than 2,600 lawsuits filed and more daily, and 7,500 complaints– the DePuy hip has proved to offer the exact opposite of the freedom that it initially promised. Instead of increased mobility, many patients have found themselves involved in more surgeries and pain.
If you received one of the three Depuy hip implants that was recalled, contact Wynn and Wynn attorneys today. We will work with you on your case to make sure that you receive the compensation for your medical bills now, and any damages that may result in the future. Call us at 1-800-852-5211 or click here for a free consultation.